PAST CATS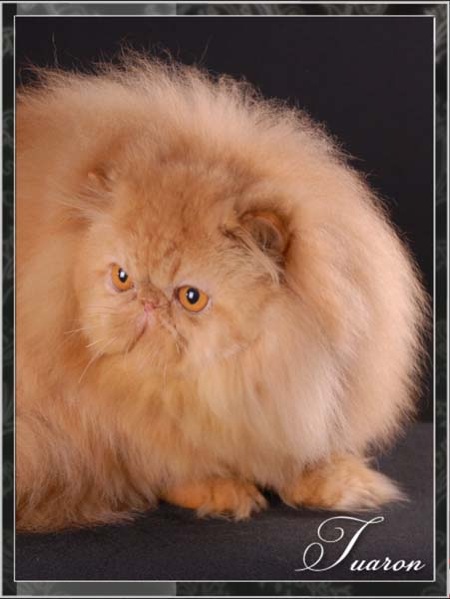 CH CFA YELLICLE RED SKY of TUARON

Retired 2014

red persian More Pics PEDIGREE

sire: GC Sundew's Capone of Bryn Mawr of Yellicle
dam: Sumava`s Octavia of Yellicle

Lines:Boberan,Bolo,Blueskyeyes,Bastis,Agonistes,Jadon,
Magrathea,Rubyrose,LTCH,Wattkatz, Anz ,Furfrenz,Purdy Katz...

CH CFA TUARON I AM YOUR DREAM

Retired 2014

Exotic More Pics

silver patched tabby-white
geb / born :07.03.2010

sire: CH CFA Catica Adagio
dam: CH CFA Polar Bear Eden Sunrise of Tuaron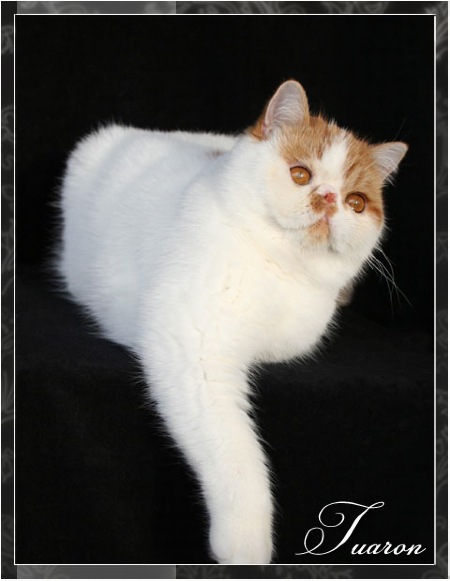 CH CFA Catica Adagio

Retired 2011

Exotic Sh. More Fhoto´s Pedigree
Red Tabby & White

born / geb: 14.02.2008

Sire: CH NATTAJA LEON OF CATICA
Dam: WIKTORIA od ELIZY OF CATICA

Lines : ARTEMIS, POLCANN'S,HARWOOD,DESMIN,HEIDA,JOVAN,BEN-MAR, PAJEAN'S,SIBIRSKIN,KIKIKAT .......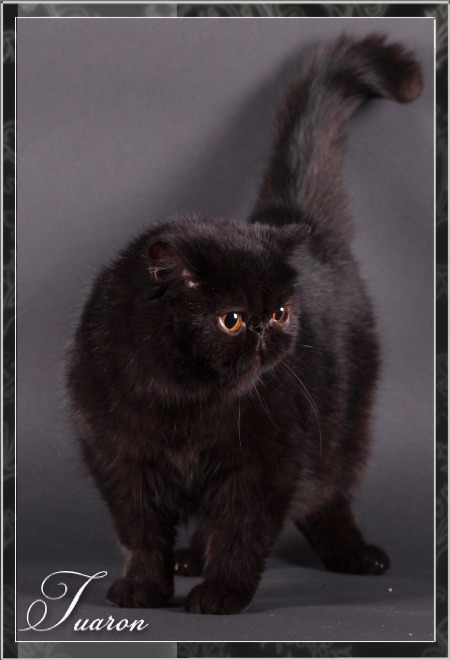 CH CFA Polar Bear Madeleine of Tuaron
Retired 2011 Pedigree More Pics

Sire :GC Polar Bear Veles
Dam : CH Polar Bear Sunny Elly

Exotic Sh.
black

CH CFA NALTEL BELZEMUR
Retired 2013

silver tabby exotic More Pics Pedigree

sire:CH CFA Black Pearl's Florizel of Naltel
dam:CH CFA Black Pearl's Gloss Opulence

Lines: Pensfordhill,Ocalicos,Panei, Calivan, Brannaway, Jonti, Wishstar, Harwood, Becton,Del Adene, Grandaries, Bryn Mawr, Tehy, Zoticats,Dali Look, Vita-Nova, Becton, Patina, Kikicat, Lumicat...

CFA CH & GC TICA AMUSING CAT YO-YO
Retired 2013

One Show Grand Champion TICA!
CFA Grand pointed!!!

Exotic Sh. More Fhoto´s Pedigree
Blue Classic Tabby White
born / geb: 27.06.2006

sire: CFA Ch.Vibrations Obsession of Amusing Cat (PER cream white)
dam: Ch.Amusing Cat`s Franka (EXO blue silver cl.tabby white)

Lines: Chantilylace ,Zerandodream ,Vibrations, Florentino`s , Belamy`s, Wattkatz, Mollycoddleds, Vickits, Beauetcheres, Tyland, Mashalas, Tenra, Malous...